Cool down Summer special
by Administrator
Posted 26 July 2018
---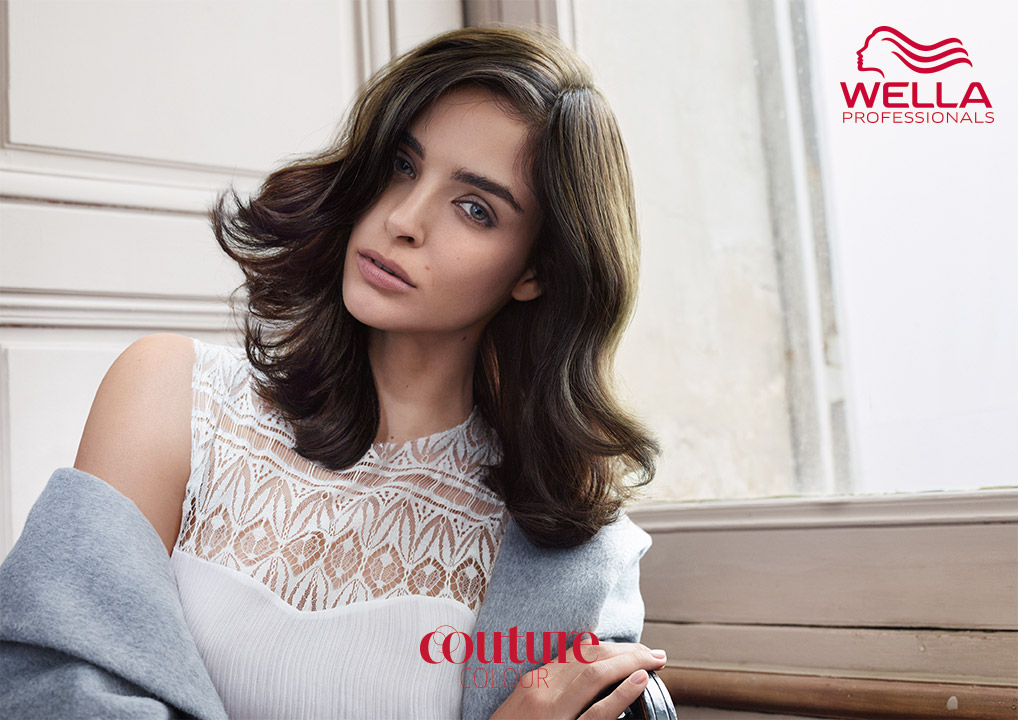 ---
Cool down with our great Summer Haircut & Blow dry and waxing promotion. Get £5 off a cut and blow dry or Intimate waxing when you book online. Just book your appointment via our website and enter the Promo code SUMMER. The £5 will be taken off your bill automatically at the checkout.
T&C This is an online only promotion and does not apply to appointments booked over the phone.
Only applies to selected services, Haircut and blow dry or single intimate waxing treatments
---
Scared about waxing?Introducing Waxu! intimate waxing like you've never experienced before
by Administrator
Posted 07 May 2018
---
---
Intimate Waxing Like You've Never Experienced Before
At waxu, we believe women deserve beautifully smooth, hair-free skin, anywhere they want - fast and free from discomfort.

We have developed the next generation in waxing; a salon-grade, express intimate waxing collection that revolutionises the way women think about hair removal. Luxurious, long lasting and unbelievably comfortable, it's professional waxing like you've never felt before.

Our Signature Treatment
We are the UK's leading specialists in intimate wax and we are here to help you choose the perfect style for you so if you're unsure just ask your therapist and she'll be happy you guide you on the various intimate wax options.

Remember, you're in control of your wax, so please tell your therapist your preferences and she can adjust the style to make it your own. Whether you want a little off or a lot, you can select the one that's best for you.

Our signature wax is our most popular option. This wax removes all hair starting from the edge of your pant line right through to your inner and outer labia and all hair around your anus.

Our signature wax has the option to leaves a strip on your pubic mound a width and length of your choice, which you can discuss with your therapist. We don't charge extra for removing your strip as our signature wax is so thorough that it only takes us a second to remove it for you.

The perfect option if you wear a thong, or want to be completely or almost completely hairless.

Get the Beat wax of Your Life
waxu is the UK's only dedicated express intimate wax treatment and we're 100% committed to making sure the waxu experience really is incredible, every single time. waxu therapists use our specially developed techniques and our advanced wax formula's to give you super-smooth results, super fast.

Don't settle for second best, join the waxu revolution and get gorgeous, silky- smooth skin like you've never experienced before.


---
Let your Colour Spring to life with our amazing offer this May
by Administrator
Posted 04 April 2018
---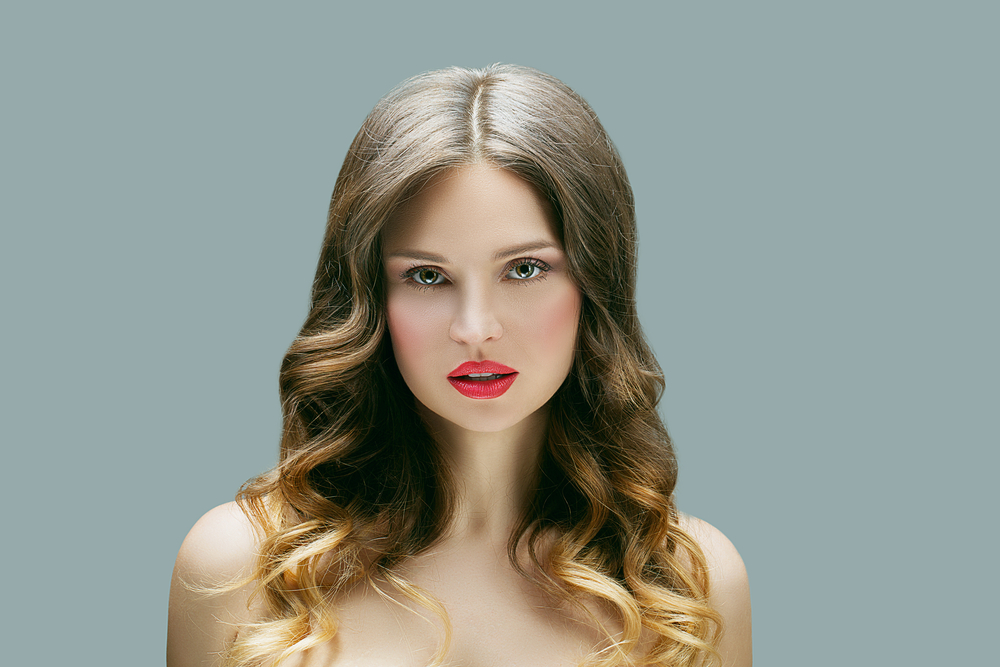 ---
Back in the day the choice was to Highlight or not, now we have options. Balayage and Ombre are tried and tested favourites, Balayage comes from the French word to sweep and that is what we do. Colour is swept freehand in strategic places throughout the hair, you don't get such obvious regrowth and we accentuate your best features. Ombre first started as way of still having colour without lots of upkeep, colour is applied in a pattern to the ends to give a really natural edgy look to the hair. This May we have an exclusive offer for you with our Wella experts Julia and Seniz.

They are both Wella trained and have tons of experience and great ideas to make you look awesome

Get a Ballayage or an Ombre colour, including a cut and blow dry and a luxury conditioning treatment with a head massage for £125. That's not all we will throw in a bunch of samples from System professional so you can take care of it at home. Some techniques may require a skin test so ask for details when booking.

Offer open until May 31st, this offer is only valid with Julia or Seniz, Please quote Web offer when booking, cannot be combined with other offers or discounts
---
Wear your nails like it's Prom Night
by Administrator
Posted 01 February 2018
---
---
Now available at our Bloomsbury salon

GELeration

GELeration is the beauty of Jessica with the strength of a gel. With the health of the natural nail in mind, GELeration's gel formula delivers a long-lasting, up to 21 days, flawless finish that's dry in seconds and protects the natural nail.

GELeration express manicure

Ideal as a maintenance treatment, in between a GELeration gel overlay manicure, nails will be beautifully shaped, though not trimmed, and perfectly polished with Jessica's GELeration's long-lasting, gel polish.

GELeration gel overlay manicure

This service includes hand exfoliation, massage and therapeutic cuticle care. Nails will be trimmed, if required, then beautifully shaped and perfectly polished with your choice of Jessica's GELeration's long lasting, gel polish.

To book call 0207 837 0021 or book online and ask for Carina


---
Getting a restyle is a scary business
by Administrator
Posted 31 January 2018
---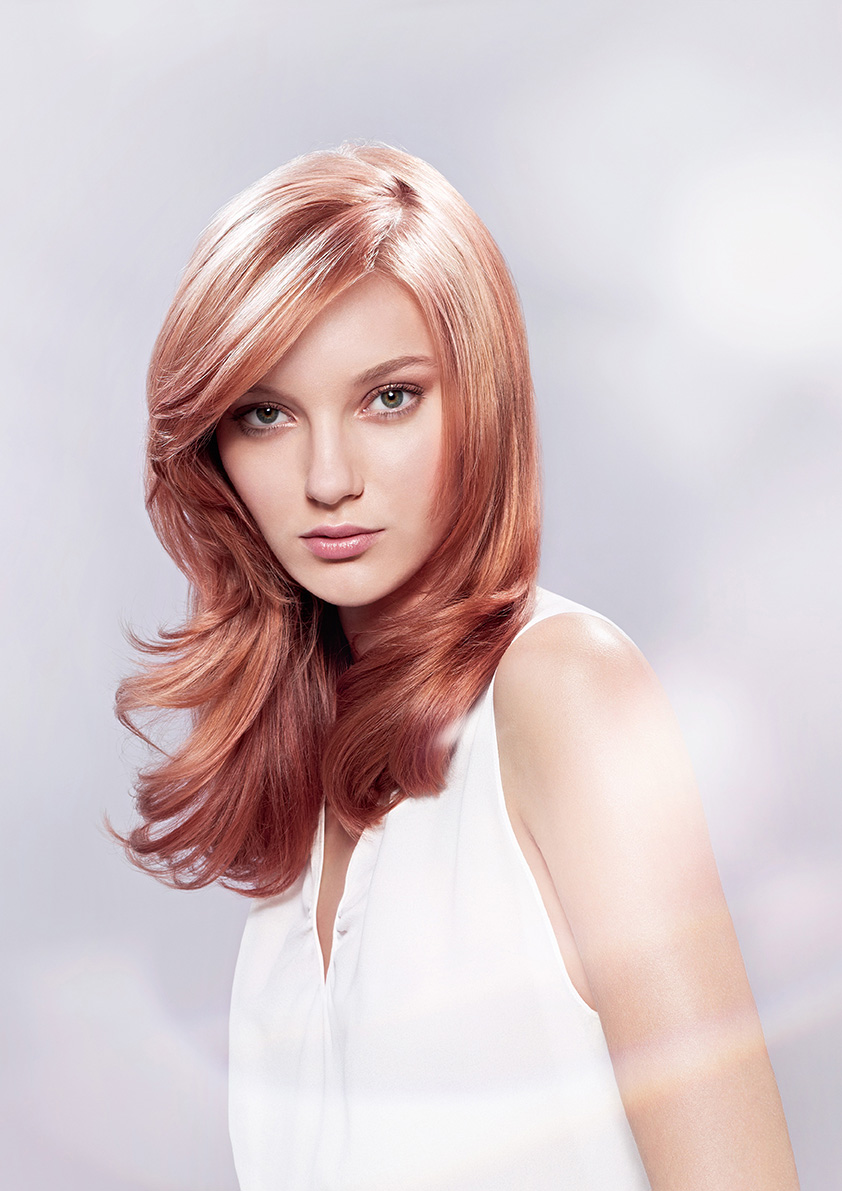 ---
You decide it's time for a change so you pluck up the courage and ask your favourite stylist for advice. Do you perhaps sometimes feel that you are in a competition for who is going to blink first?

Understand one thing here "It's just as scary for them as it is for you"

Often clients will say to me "I would not want to be you, what do you do if they don't like it?"

And the bad news is it does not get any easier even after 45 years of cutting hair. And by that I mean the fear of the customer not liking your creation is always there. If the stylist does not have that fear then you are potentially really in trouble.

It all starts with a good consultation and really seeing the client "not just looking"

do they have?

Strong features
Beautiful eyes
A square jaw
Great hair
Thin hair
Thick hair

You get the picture?

But after a while it's easy to become complacent and by the way that's both you and the stylist. You can end up disappearing under your hair, so you are growing it! that does not mean looking awful for 3 years and if your stylist tells you something like eventually you will get there. Then guess what? "Change your hairdresser"

However it's all about expectations and managing them, but also seeing potential and supporting a client all the way in making a change. you would be surprised what a transformation a restyle can have, in looks and confidence and remember my motto is " your hair should suit you not us"


---
Gel nail extensions and overlays now available
by Administrator
Posted 18 January 2018
---
---
CV Hair & Beauty in Bloomsbury are now doing Gel nail extensions and Jessica geleration nail overlays. We have a special offer until the end of January mention the blog to get £10 off

Created with the nurture of your natural nail in mind, GELeration protects your nails, while offering weak, bitten or problem nails the opportunity to grow underneath the gel.

Perfect nails for 3-4 weeks with long-lasting high gloss shine


Durable yet flexible


Non-chip finish


No smudging


Super-fast drying times


Protects the Natural Nail


Simple removal – gel overlays soak off in 10-15 minutes


No odour, no Formaldehyde, Phyhalates or DBP


Can be used with other Jessica natural nail products for complete nail care.
---
Big Hair
by Administrator
Posted 24 November 2017
---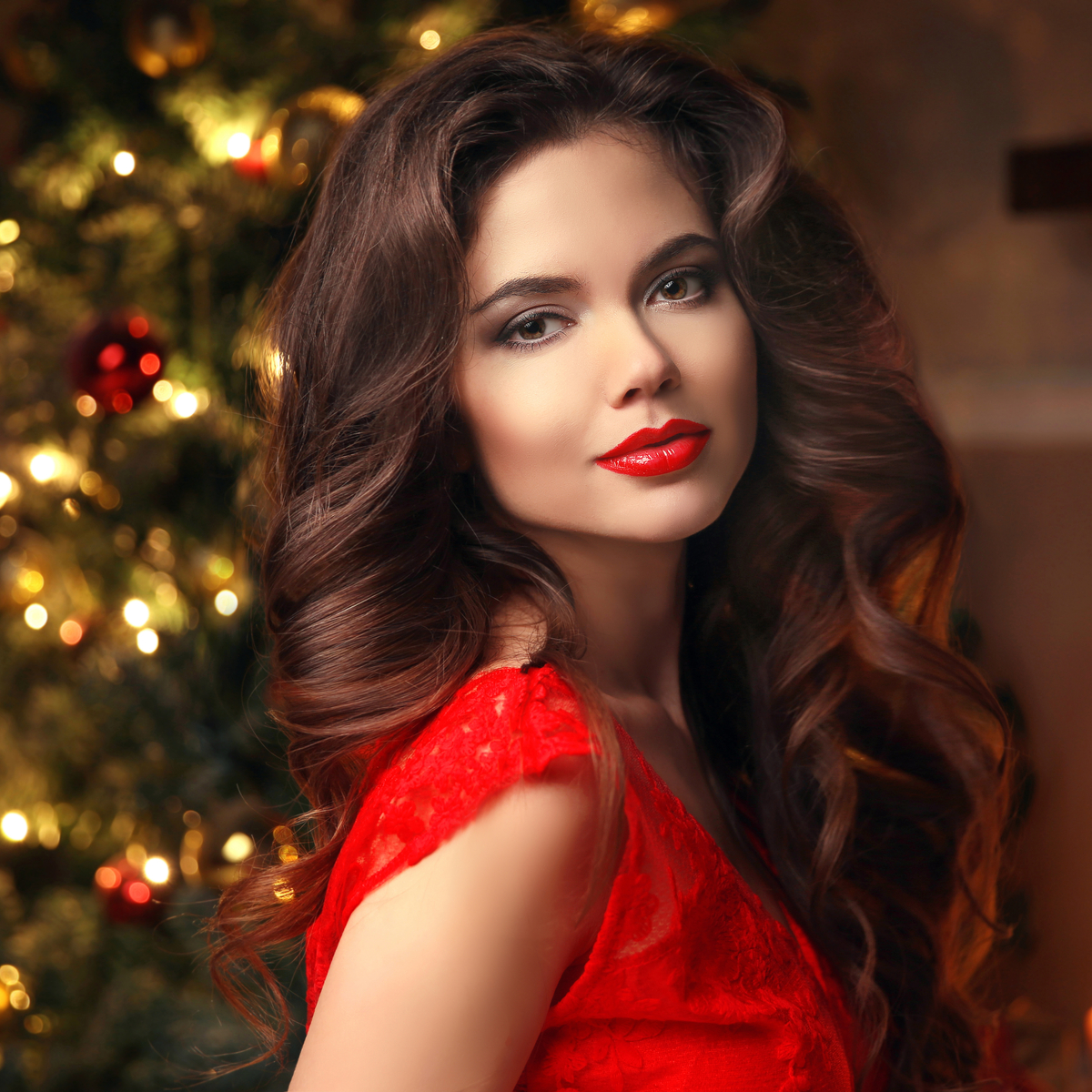 ---
The longer you do Hairdressing the more you accept that every style has it's moment, then it goes out of fashion. A few years later it's back again with a bang. Big hair was pardon the pun big in the Eighties, What used to delight a client in 1981 would horrify a customer in the 90s. Now it's 2017 and that same person is delighted again. Here is the thing "It looks glamorous" you start the evening looking great and pretty much end up looking great. We love Big hair and were good at it too!
---
Very strong traditional hairdressing
by Administrator
Posted 03 February 2017
---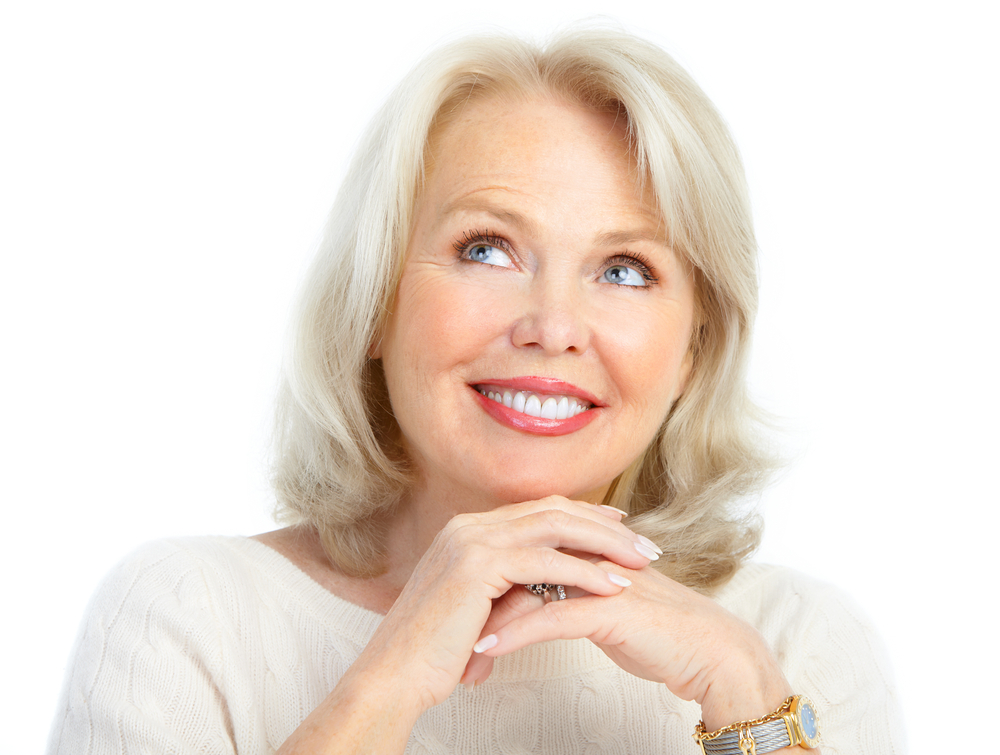 ---
We still see lots of our clients on a weekly basis. Probably because they want a blow dry that lasts or a shampoo and set. The salon has been here over 50 years and although we do lots of edgy cuts, and colors. We still turn out a proper blow dry or shampoo and set. A lot of our clients are wanting more traditional work, because we are very experienced we are able to offer some of the services that it can be hard to find these days.Our clients seem to be happy that we are not adverse when what they require is not the latest trendy look, so whether you are a silver surfer or just want a glamorous look for a party we are happy to help. We can back comb and tease, cut and shape. Our art director is very skilled at geometric cutting so is able to offer a service ti those people requiring a strong foundation cut.
---
Party Hair confusion? You may have a Christmas Hair Ache!
by Administrator
Posted 03 December 2016
---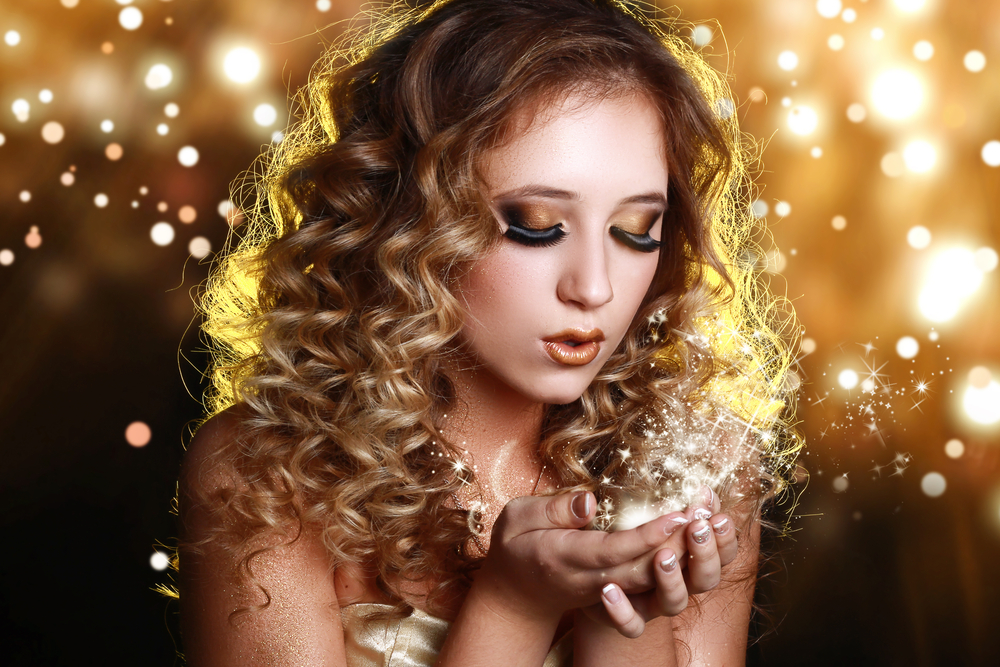 ---
It's that time of year again……..where most good sense goes out of the window. We eat more and drink more while at the same time, partying harder than is probably good for us. For most hairdressers this is a busier time than normal! So we have to forget about eating lunch for a couple of weeks and get our heads down and get styling ….. Because it's "PARTY SEASON".

The big question on everybody's mind seems to be what to wear and how to do their hair, for the office party. Now you may be thinking? here we go with the sales talk! With knowing utterances about catwalk models and how the latest reality star is wearing their hair. Or what pastel shade you must be sporting to really embrace your inner fashionista…… au contraire!

This is my theory based on 41 years of experience in hairdressing, it seems to be an unwritten rule that you always get to sit next to the person you like the least at the Christmas party. I say this based on a combination of the hilarious stories that we get told by clients, sorry but what's said here stays here! And my own personal Christmas party misery endured over the years.

On one occasion I had to sit through a monologue of biscuit recipes…. For three hours

But I digress

You probably just want to look fabulous in comparison with your new found non-buddy?.... and I'm a great partner in a little plan to outperform the competition.

I want maximum impact for my customers, and we do research together so it's not uncommon for emails to fly back and forth with photos.

Keep it uncomplicated… why would I want a simple look you may say?

Well think about the guy who dresses up in his best suit for the Christmas annual food fight, but by the end of the evening, just one side of his shirt is hanging out and his tie is around the back of his neck. How does that happen? Why does that always happen?

and more importantly how cool does it look?

It would seem to be a good idea, if you want to impress? To be still looking like a force of nature at the end of the evening…. Not like you got caught in one.

And so on with the party hair bullet points

• Hair up is not always the best idea if you are going to be consuming copious amounts of alcohol, same goes for wax and gel. Have you ever noticed people run their hands through hair repeatedly when intoxicated? This does not go well with grips, pins and sticky substances.
• Classic is best, go with what you know looks good on your hair not what you wish would look good
• Same as the last point really this is not the time to experiment
• Ask your hairdresser to be honest with you, they may not be as honest as me but hey I'm not for the fainthearted!

Right about now you are probably polarised……. He sounds awful!!! Far too blunt for me

I will admit

• I don't do air kisses
• I am not going to tell you something will look good "if it won't"
• This level of honesty is not for everyone and it may not be for you
• In my defence my clients are my friends and we don't lie to friends

Normally your hair would need to be a bit bigger and bouncier than normal for a party; it will make an impact and has durability. I normally plan Christmas party hair,

I can do instant hair idea!

and yet you get a better result with a plan, and I love success stories from my customers. So there you go a few nuggets to think about, get planning with your stylist of choice and enjoy the party season.

PS why is someone always crying by the door at the Christmas party?

---
"Oh no I have to change my waxing salon, and I need an intimate wax"
by Administrator
Posted 08 October 2016
---
---
We know what it's like to get a wax at a new place, maybe you just got used to your therapist and then she moved or you did. Which is why we try to take a little more time to make you feel at home and to get comfortable with us. We think changing salons is a big deal and we try our best to make it a pleasant and painless experience .If you are visiting Bloomsbury or have just moved into the area, one of the things you may be asking is "where do I get my waxing done". Our Marchmont street beauty salon offers a warm welcome, a hygienic beauty room, and a very experienced waxing therapist who uses warm strip wax and is great at intimate waxing.She is quick and very hygienic if it is your first time Hannah will be happy to talk you through through process.We are 2 minutes from Russell square station and about 7 minutes from Kings cross and St Pancras stations. Do you have trouble fitting your waxing in to the working day or maybe you are a student and have to get your waxing done between lessons. Good news we are open late 5 nights a week until 8pm and all day on Saturday.Online booking is available for those who do not wish to discuss their waxing on the phone, so you can book discreetly at a time that suits you. We offer a student discount and deals for local companies.
---
Hairdresser Speak
by Administrator
Posted 08 April 2016
---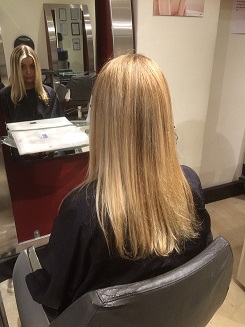 ---
I forget sometimes that not everybody understands our terminology. I have been asked when quoting the price for a half leg wax "is it both legs?". And the other day I was asked if I could do a permanent wave? Simple right? Nooooooooo
She wanted it to last forever, I explained that the product had not been invented yet. I never say never , because if someone had described the effects of the Brazilian blow dry to me 10 years ago, I would not have believed it was possible.
Just recently I have been freehand painting highlights into the hair which gives you a very natural effect between an Ombre and a ballyage

---
Late opening
by Administrator
Posted 08 April 2016
---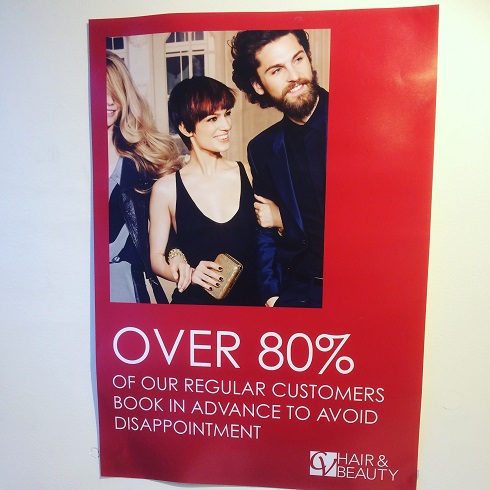 ---
We opened the salon 14 years ago now, although it has been a salon for about Eighty years. One of the first things I did was change the opening hours so that we closed at 8pm five nights per week. I distinctly remember someone saying that will never work! now evenings are our busiest time. We still try to accomodate last minute appointments, however this is not always possible now. We tried this poster and it has really made a difference. We also tried opening really early two days a week ( I mean silly o'clock). My old dad used to say if you keep your doors open long enough someone will always walk through! seems he was right

---
Your mobile could be bad for your haircut
by Administrator
Posted 07 April 2016
---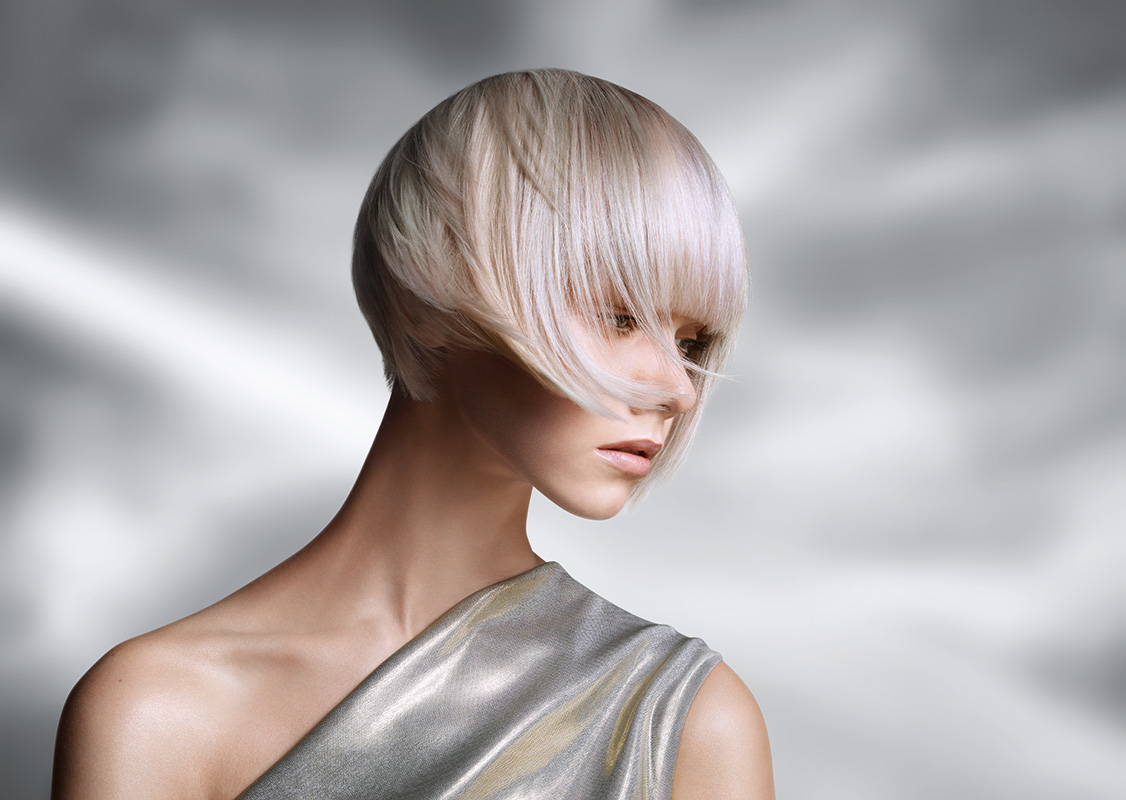 ---
Your mobile phone might be bad for your haircut! Wait a minute what did he say?
I'm not talking about the photo you saved to show your favourite stylist, I'm talking about using the phone. Distraction is an often used word these day's, teachers and seminar leaders would attest to this. But hairdressers ? "Give me a break" you are probably saying, think
About the position of your head. Now think about the position your head should be in naturally. When somebody is hunched over their phone, yes I said hunched! Their head is not in a natural position. It's not that your hairdresser is being awful when they repeat "can you please put your head up". It's just that when you do finally put your head up after the cut " it ain't gonna look right" . If your head was very far forward, and some people try to teleport themselves into the screen. When you lean back it's going to be much longer than you thought. If your a head cocker it's going to be longer one side than the other, the list goes on. If you RELAX feet apart on the floor or footrest and either just chill or talk about your hair " you will definitely get a better hair cut". Ask the hairdresser if you can charge your phone and take that opportunity to put it down for an hour or so.
---